The following trainings can be offered incompany to a group of professionals who want to improve their skill level in the given area. A minimum group size of 6 is recommended.
Personal Leadership
Successful Change Management
Constructive Conflict Management
Management of Female Power
Intercultural Competence
Powerful Presentations
Time Management and Delegating
Mindfulness and Stress Management
Professional Coaching is offered at individual level.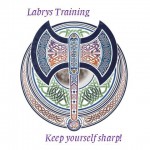 If you want more details on a specific training, please contact Jacqueline Mulders at jm@labrys-training.nl or +31 (0)6 123 78 311.
Looking forward to work with you!