Deep down I am an idealist. I am and always have been one of those people who want to "make the world a better place". And at the same time I am a realist, a pragmatist, because I learned to accept that reality is stronger than any of our opinions about it – and life turns out to be easier if we better understand what we are facing.
I enjoy connecting to people and understanding how they perceive the world. Teaching, training and development have always been part of my core activities. I traveled to over 45 countries and collaborated with specialists from all five continents. In order to also connect to people with diverse cultural backgrounds I learned to communicate in more languages than the average person. My English, Russian and Dutch are fluent and my command of Italian, German and French is good enough to communicate in groups. I know "how to find my way" in Arabic, Czech and Georgian.
After a career of more than 10 years in the international IT industry, at IBM and Accenture, in 2009 I founded Labrys Training.  For six years I contributed to development of leadership qualities in management and professionals in the international profit-sector and in students of the Amsterdam University of Applied Sciences. Throughout the years, negotiation and conflict mediation started taking more of my time.
From 2005 on my CV has been included in the Portfolio of Election Observers of our Dutch Ministry of Foreign Affairs. I participated in seven OSCE Election Oberservation Missions as Short and Long Term Observer in Russia, Belarus, Ukaraine, Azerbaijan, Armenia and Georgia, and was a Long Term Observer in two EU Election Observation Missions, in Afghanistan and Sri Lanka. Intercultural negotiation and conflict mediation played an important role in fulfilling these responsibilities as well.
The relevance of conflict mediation was confirmed to me once more during my secondment 2015-2020 by the Dutch Ministry of Foreign Affairs to the EU Monitoring Mission in Georgia. The Mission observes the areas around the "Administrative Boundary Lines" around Georgia's so called "break-away regions" Abkhazia and South-Osetia, and facilitates dialogue between the parties involved.
I learned that no matter how strong a vision, the success of an organisation, be it profit or peace, is delivered by the qualities of the leadership and their people.  I would be happy to support development of these qualities in your teams and organisation.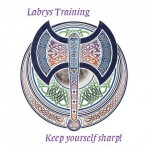 If you want to understand what Labrys Training can do to increase the effectiveness of your people and your organisation, please contact me here.