On large international training events or on organisational support services Labrys Training is proud to cooperate with Dr. Judith Abdel-Massih-Thiemann of thiemannconsulting. Please find her introduction:
"Since ever my live was shaped by tight intercultural bonds. I was born in South Africa and grew up in South Africa and Germany (Bavaria). Even though I studied in Germany, I spent every free term abroad either for social work or to do research studies (South Africa, Namibia, Ghana, Egypt, China). I loved and still love to connect to people to understand their situation and how they perceive their world and at the end to learn from them. On the other hand I always intend to support them to make the best out of their world and motivate them to make the best out of what they can do. My enthusiasm was the guiding drive to become what I finally became.
After I finalized my German Diploma (MSc equivalent) on educational science (focusing on adults education) and my PhD in cultural anthropology, I left to Sudan, working for eight years for the German Development Service (DED) as development advisor and sector and regional coordinator in the field of democracy promotion and support to Civil Society. I moved on and became Portfoliomanager of the "Deutsche Gesellschaft für Internationale Zusammmenarbeit" (GIZ) in Amman/Jordan. After two years, I continued as team and project advisor for the GIZ in Ramallah/Occupied Palestinian Territories. In 2013 I returned back to Germany with my family and started my own business as freelanced consultant for organisational and project development.
My work is based on strong knowledge and skills on organizational development (including leadership and management structures, strategic planning, monitoring and evaluation, fundraising,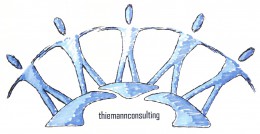 team building and communication, to mention a few) and is complemented by my long term experience in the field in over eight countries mainly in Africa and the Middle East."